Drogastian Mejia Rios
Edit
Es Un Doño Drogadicto
Es Originario de Colombia Parece que es el Hermano perdido de Rafel Polinesio :VVV
Esta Nominado En Los Doñitos Grammy Awards En La Categoria de "Mejor Doñito Antiguo" asi que voten por el :v v:
Sus Publicaciones Son: Videos de el Bien Perra, Videos de El Drogandose, Tutoriales, Pendejadas Y Arena
Es Jota, Su Actividad en el grupo es muy poca por que casi no publica nada
Sus Fanbases son:Smiler, Madder, Kat Graham fan y Florence fan UwUr cual copiado y pegado papu >:v
                                                                     Bn Tamblr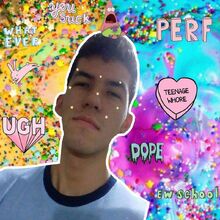 Ad blocker interference detected!
Wikia is a free-to-use site that makes money from advertising. We have a modified experience for viewers using ad blockers

Wikia is not accessible if you've made further modifications. Remove the custom ad blocker rule(s) and the page will load as expected.